A new era will begin on Wednesday with India taking on New Zealand in a three-match T20I series but the focus will be on prioritising players' wellbeing and health rather than on winning every match. Under new head coach Rahul Dravid and T20I captain Rohit Sharma, the team will be rotated to keep them fresh for three big ICC events in the next three years.
"No, we won't prioritise a format. All three T20 World Cup, 50-over World Cup and the WTC will be equally important. But it will be important to manage workload. You see in football, not all big players play every game. As I said, we will work in and around players' well being and work towards getting everyone ready for big events. It's just not us. You see Kane Williamson not playing in this series. So, it is a challenge for everyone," Rahul Dravid said.
🎥 Head Coach Rahul Dravid rekindles his first meeting with a young @ImRo45 & lauds the #TeamIndia T20I captain for his contribution towards the Indian cricket. 👏 ☺️#INDvNZ pic.twitter.com/croLaIElLu

— BCCI (@BCCI) November 16, 2021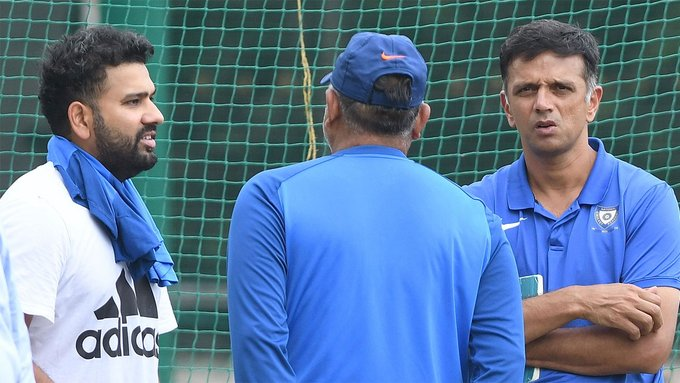 Since Jasprit Bumrah, Virat Kohli, former head coach Ravi Shastri and bowling coach Bharat Arun all spoke about bio-bubble fatigue, the BCCI has been dismissive. Some inside the Indian board believed it was a mere excuse after a disastrous T20 World Cup campaign.
"As far as bio-bubble fatigue is concerned, players are not forced to play in the IPL. If Virat or Jasprit thought World Cup was more important, they could have withdrawn from IPL. BCCI provided them with all the facilities and has allowed families to be with them. We are all in a difficult time due to Covid," a senior BCCI official told InsideSport.
However, Rahul Dravid has made it a priority to look after players. The former India skipper believes players will only be able to deliver when they are well rested before big tournaments. With one ICC tournament every year, players will be rotated regularly including senior and juniors.
"I know it is the important aspect of the format where people have assurances of taking chances in the middle. If it comes off, it comes off and if it doesn't, it doesn't. It is where both of us (Rohit and Rahul) need to play a huge role and a huge part in terms of giving an individual assurance of going out and expressing themselves," new T20 captain Rohit Sharma said.
Before taking over as the Head Coach, Rahul Dravid had spoken to all the players individually and asked them about their wellbeing. The players have been in continuous bio-bubbles and that has taken a toll on the players.
But one aspect that Team India will focus on but Dravid refused to divulge on is Hardik Pandya. He said not just Hardik Pandya but all the players will be monitored.
Assurance of place in the squad – Rohit
It will always play a huge part. A player needs that assurance to do well. There will always be pressure but the entire setup will play a key role. We will back every player. But even if they do not do well, it's will be discussed later.
New Zealand as opponent- Rahul
They are an exceptional side. They are strong and have good depth. Over the years, they have played well as a team. Williamson may not be there but anyone can be a match-winner on a given day. You saw in the WC, different individuals won them matches.
Template – Rohit
Setting a template will be very important. We may not have won a World Cup but we have played well as a team in other events. I think we have to make our own template and take inspiration from the Syed Mushtaq Ali as well because they are accustomed to such situations.
Different teams: Rahul
We are not looking at different teams for different formats. Definitely, not all the guys will play all the formats. I will work with the players to ensure they get the required break. At this time, it is very important and we take that seriously.
Build a team or win all matches? – Rahul
Of course, we have to strike a balance. But we will not prioritise win over players' wellbeing and health. We have to think about that. It is difficult to say how we would do it but we will for sure.
Differences in coaching – Rahul
Certain principles of coaching will never change but I cannot do the same as I did in the U-19 level. It will also be an opportunity to learn.
Workload management – Rahul
It is important to manage workload. You see in football, not all big players play everygame. As I said, we will work in and around players' well being and work towards getting everyone ready for big events. It's just not us. You see Kane Williamson not playing in this series. So, it is a challenge for everyone.
Rohit: It is important for every player to stay fresh. That's why you saw many missing out in this series.
Virat Kohli's role – Rohit
He will continue to play the same role he has been. He is a very important member of the squad.
Making debut under
Rahul – Time flies. We were just talking about it. We all knew Rohit will be a special talent. I never thought we will be working together after so many years.
Rohit: The first conversation I had with Rahul was in Bangalore. I never used to talk a lot. In Ireland, he came and told me that I will be playing.
India Playing XI vs New Zealand:
Rohit Sharma (C), KL Rahul (VC), Shreyas Iyer / Ishan Kishan, Suryakumar Yadav, Rishabh Pant (wk), Venkatesh Iyer, R Ashwin, Yuzvendra Chahal, Deepak Chahar, Avesh Khan, M Siraj
Earlier on Monday, KL Rahul addressed media and declared that he & the team is looking forward to learn more from Dravid. He also spoke about the impact of Rahul Dravid and his previous experience of working under him. He said that Dravid creates an environment where everyone is comfortable and called him a 'team man'.
"Look, I have been fortunate to know him for a very long time. As a youngster, I did try to pick his brain. He was very helpful to all of us back home in Karnataka. He has helped boys across the country, having him here with us as a part of that setup will give us an opportunity to learn," KL Rahul stated further.
"We all know how big a name Rahul Dravid is, we have a great opportunity to learn from him and get better as cricketers. When it comes to coaching, I have played a couple of games with India A setup, he is somebody who has a great understanding of the game and creates an atmosphere where everybody is comfortable. He has always been a team man," he added.
Speaking about the vice-captaincy role, KL Rahul said he is looking forward to the challenge. He said that he would like to create an atmosphere where people can express their true nature.
"I think it's a collective effort whatever happens in a team's sport like cricket. Everybody should be clear about their roles. All the players in the team, have been together for a very long time, we get along really well. It will be fun to go out and play," he said.
"Yes, there will be an added responsibility but it is something I have enjoyed doing, the most important thing would be to create an atmosphere in the dressing room where people coming in feel happy and welcome and they go out there and express themselves. Rahul Dravid comes in as well, really looking forward to the next two weeks with the new coaching staff," Rahul told the reporters.
Meanwhile news from New Zealand camp is that Kane Williamson will skip the T20 Series vs India and will be back to lead the team for the two-Test series. Williamson meanwhile will stay put with the squad and will focus on the red-ball preparations while Tim Southee will lead the team in the Twenty20 games.
New Zealand, who finished 2ND in the just-concluded Men's T20 World Cup 2021, arrived in Jaipur on Monday. The second T20I will be played in Ranchi on November 19 while the final game is on November 21 in Kolkata. The two Tests will be played in Kanpur and Mumbai from November 25-29 and December 3-7 respectively.
"With the opening game of the T20 series on Wednesday evening, followed by games on Friday and Sunday night – the decision was made for Williamson to join the Test specialist group already training in Jaipur as they focus on red-ball preparation," stated a media release.